Congratulations! You've been onboarded to our real time updated Influencer Marketing Platform.
Follow below steps to get started.
1. Invitation e-mail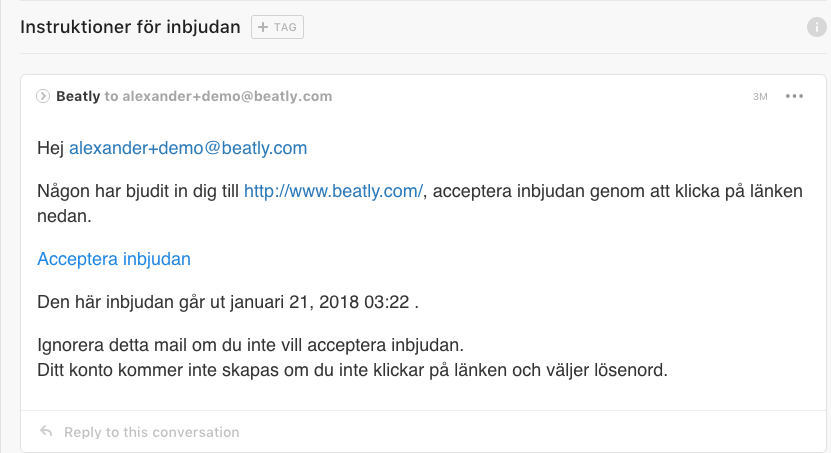 If you've been invited correctly, you should've gotten an e-mail like the one above. Press the "Accept invite" / "Acceptera inbjudan" to continue.
2. Register your account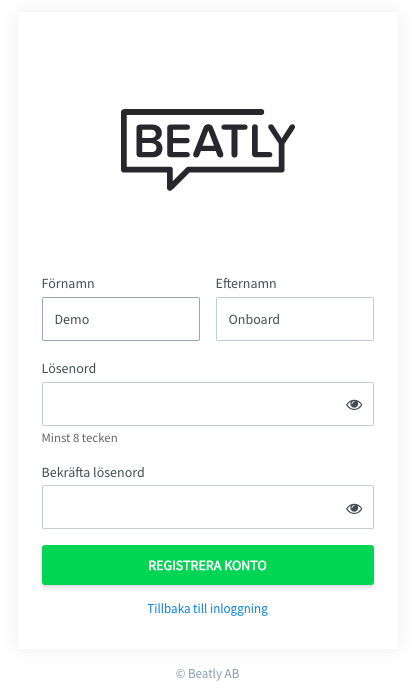 Enter your first name, sur name, and desired password two times. This is the credentials you will use to logon in the future (for creation and tracking campaigns).
3. Campaign Dashboard
When your account is registered, you will get logged in (you are also always able to log on to Beatly by visiting beatly.com and pressing the Login button to the upper right).
You should get straight to the campaign dashboard, which looks like this: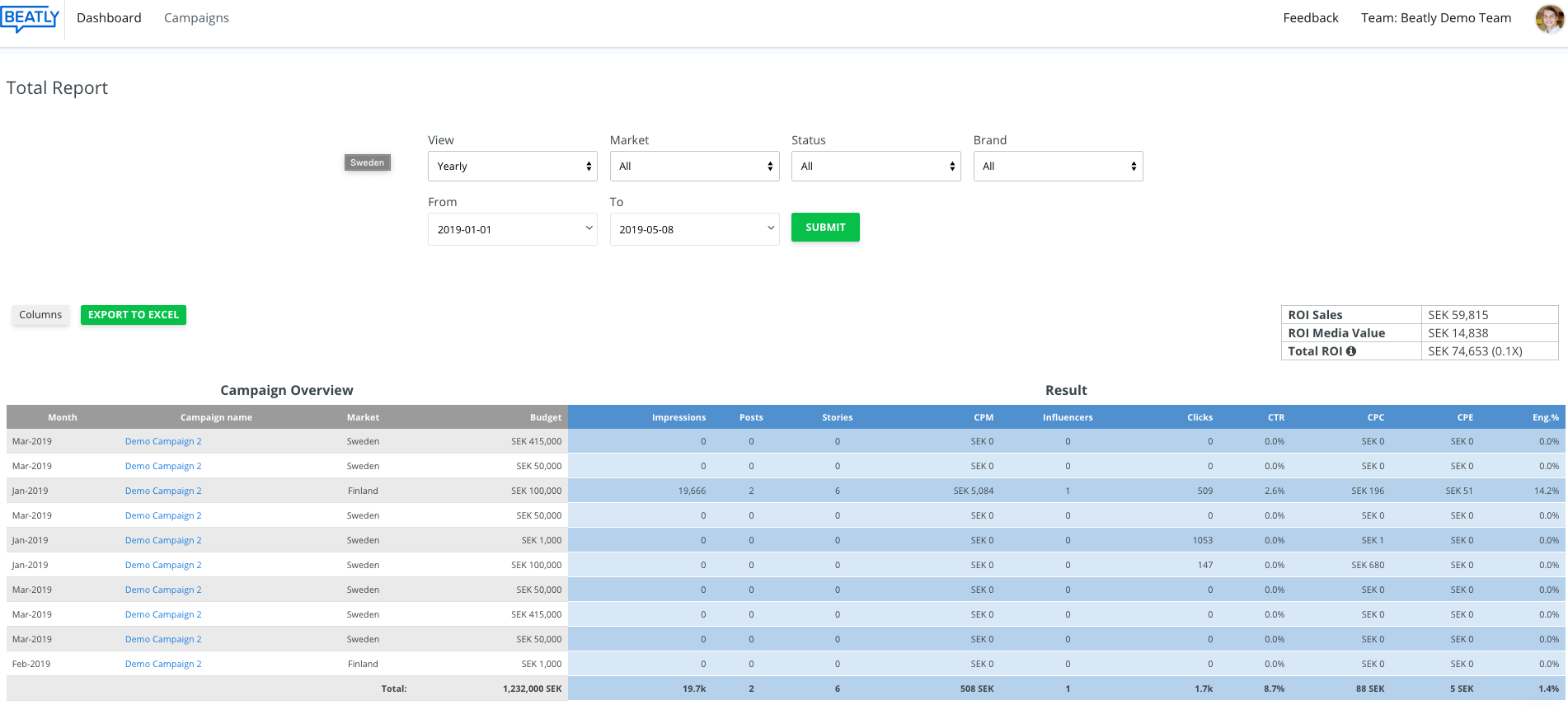 In the left column you see campaign name, market and budget.
In the right column, you see results for all campaigns individually and in total.
You are also able to view results based on brand, market and filter by time.

Click on images to view them in a bigger format.

4. Go into your campaign(s) to real time track them
Press into any campaign of your choice in the list under "Recent Active Campaigns". This will take you into that specific campaign, enabling you to see which influencers are booked, live reporting of posts, and all other important KPI:s that we measure (on a campaign level and individual influencer level). This is what the campaign dashboard should look like: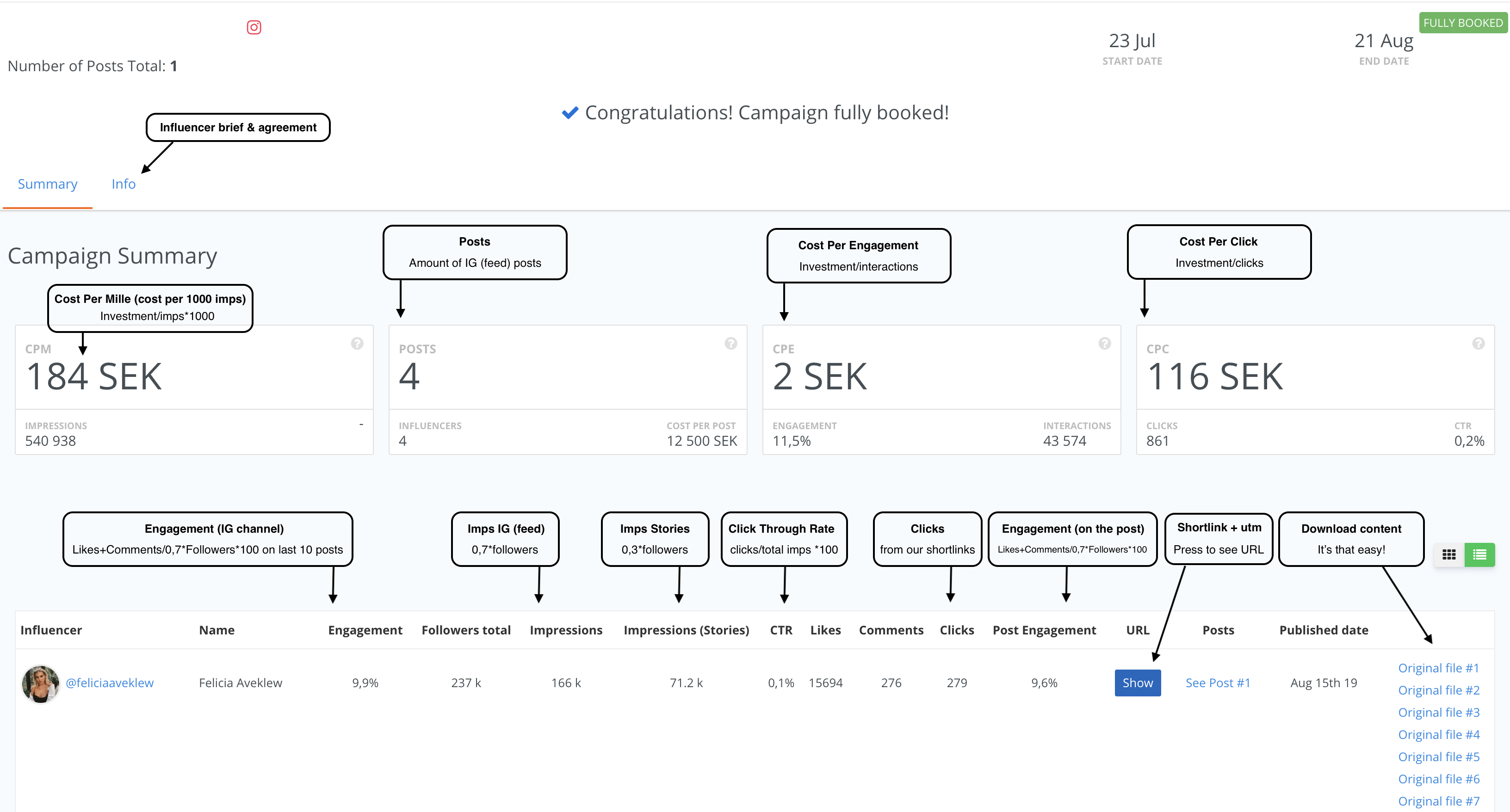 Addresses tab - see addresses to influencers in this tab for seeding purposes.
Info tab - see what they influencer sees (their brief).
Current tab - see what status is in terms of CPM (reach) / CPC (cost-per-click) / CPE (cost-per-engagement). This data is automatically updated once posts go live.
ROI is for each client after each campaign calculated and summed up accordingly:
impression = 0,5 SEK ($0,12)
interaction = 2 SEK ($0,24)
click = ($3)
5. Your list of influencers and their individual data
At the bottom of this page, all influencers that have been confirmed to the campaign will are presented. These are the ones that have been analyzed to be the best fit for your brand, given our research that has followed this prioritization list:
1) Historical results
2) Engagement
3) Growth
4) Relevance to your brand as well as brand affinity score (manual screening process)

To each post, when it's been reported in by the influencer(s), you will see clicks, likes, comments, CTR % score and more. You may also press the "Show" button to see where they will link. See more below: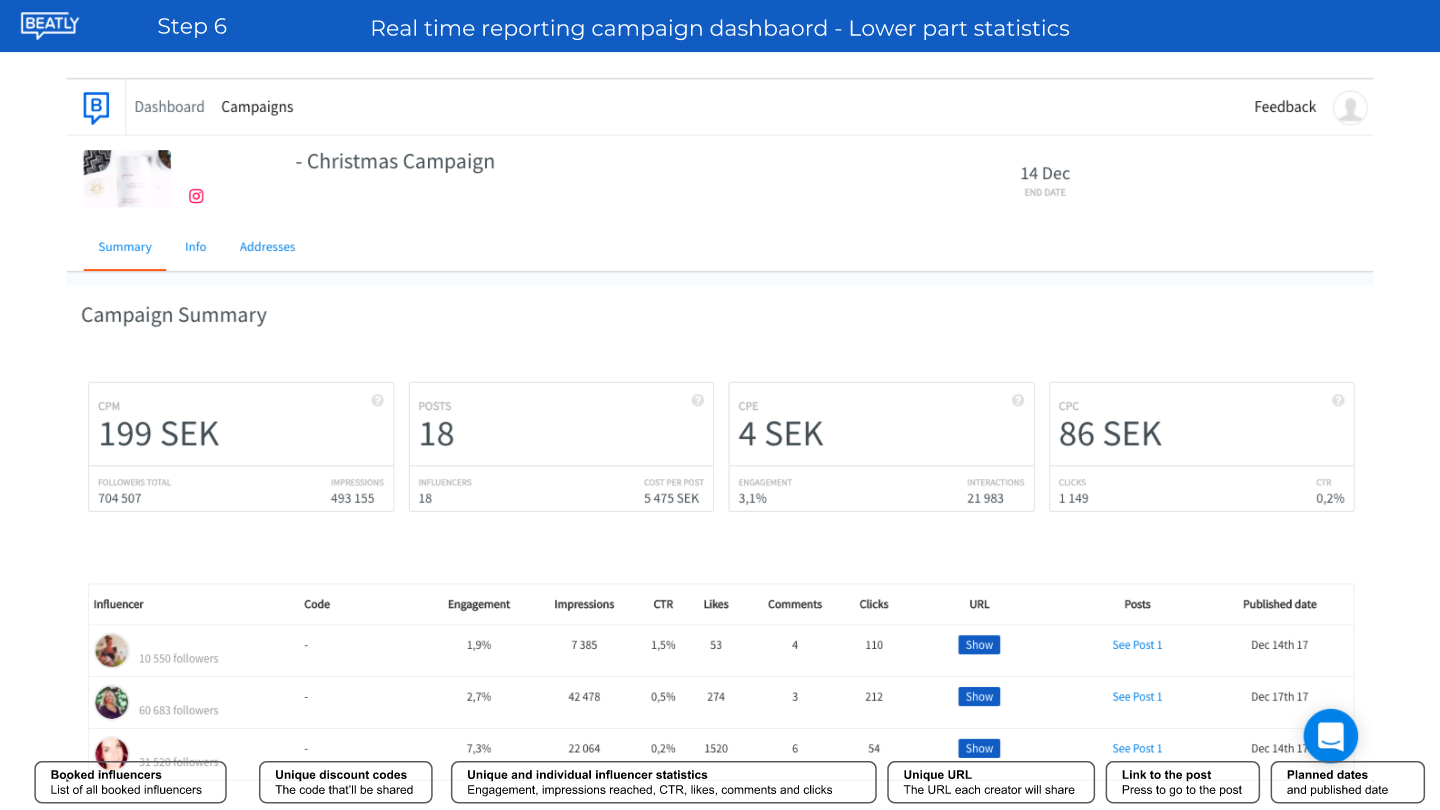 We are continuously planning and releasing new features to our platform that will make your Influencer Marketing campaigns even more effective and would love to hear what you believe could be done better. Simply hit us up with your feedback by logging onto Beatly and pressing the "Feedback" button to the upper right.
Thank you again for your support & please rate this article below.